Online Ordering
BFFM Online Ordering Web App User Guide
Please note that only customers with existing accounts will be able to use this app. For new accounts please contact our team prior to registration.
1. In your Safari or Internet Explorer browser, type in: http://ordering.benfurney.com:8080
2. To Save App icon to home screen
a. Apple Devices
Tap the 'Share' button, located middle in the bottom toolbar of Safari, Tap icon Labelled 'Add to home screen'. Give a name such as 'BFFM' Tap 'Add'.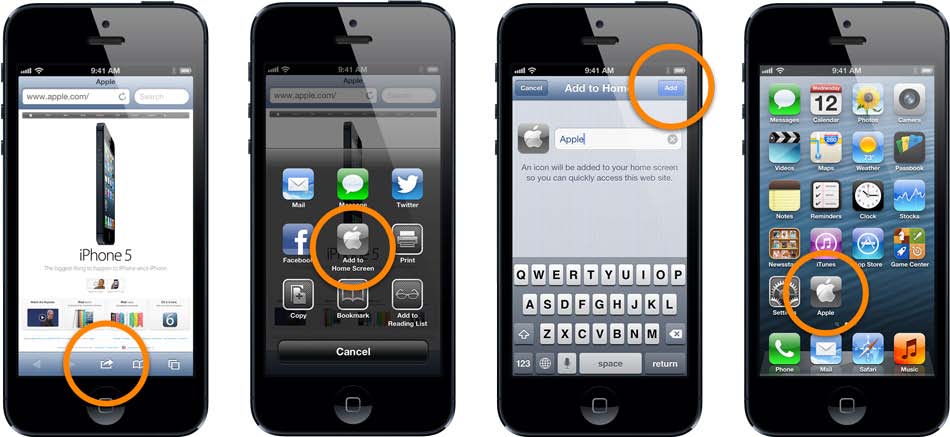 b. Android Devices
Tap 'Add Bookmark' (Located in settings or by tapping the options button of your phone) Give a name such as 'BFFM' In location, Select 'Home'.
c. Other Devices and Browsers
Other Devices and Browsers will all have a similar approach. If the above steps do not work for your phone/browser, navigating to options and 'add bookmark to home screen' will get you there. This may be slightly different for each device.
3. To Register a new User Account
a. At the logo screen, Tap the 'Register' Button.
b. Fill out the registration details and ensure that all fields are completed. Once you have read the Terms & Conditions, along with the Privacy Policy, please ensure the 'Accept' button is checked.
c. Please check all details before pressing the 'Submit' Button. The information will then be sent to BFFM with an email confirming details and lodgment being sent to your designated email account. Once your details are confirmed and assigned to your existing BFFM account a final confirmation email indicating that your account has been activated and is now ready to use will be sent. This process is generally undertaken within 1 Business Day. If there are any issues a Sales Support Representive will contact you directly via telephone.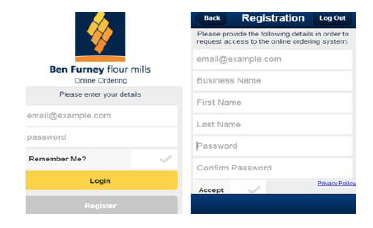 4. To Login use the email & password submitted at the time of registration. Check 'Remember Me' if you would like your login details saved to avoid re-entering your details every time
5. Tap 'New Order'
a. Tap '+ My'.(These are the products your bakery has ordered from us in the past)
i. Select and tap product items that you would like
ii. Input Quantity and Tap 'Add'
iii. Repeat step (i) as needed
b. To include other BFFM Products tap '+ All', this will show all BFFM products that are available. These products do not have pricing in place and a Sales Support Staff Member will contact you to discuss this and determine if you want to proceed with this item as part of the overall order.
c. Review your order, edit and delete items if required by tapping on them then either selecting the different quantity or delete button.
d. Tap 'Next'.
i. If required, enter your PO# or internal reference number into the dedicated field
ii. Enter your preferred Delivery Date or Tap the next available. (Please keep in mind that the time frame will vary depending on your location.)
iii. Tap and select your shipping address (if more than one address is listed.)
iv. Tap 'Submit Order'. A dialog box opens asking to 'Confirm do you wish to submit order'. Once confirmed and the order is submitted, a message appears indicating your order has been successfully sent. An email is also sent to your address with the order details.

6. If your phone times out or shuts down for any reason your order will be automatically saved.
i. To continue with this order tap 'Unfinished Order'. (This only shows when there is any unfinished order)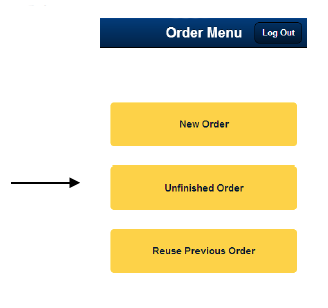 7. In case of forgotten password, Tap the 'Forgotten Password' button at the login screen and submit email address (use the same email when registering your account). You will than be sent an email containing a link to reset the password.
8. A 'Logout' button is located top right of the toolbar, you can leave the App at anytime by simply tapping this button. Orders will not be saved if you logout of the App. Big enough to matter, Small enough to care E.g. Melbourne = 3 day Lead time Sydney = 2 day Lead time