Welcome to the


Ben Furney Family
We're big on country values.
Our values as a business are all centred around experience. The client experience - and the employee experience.
We treat these the same. We value people, we value ideas.
In our business, we want everyone to contribute. We share ideas and opinions and we are transparent about our procedures so we can ensure we deliver on our promises and deliver the best possible experience to our customer.
You have chosen to be a part of a 100% Australian family owned and operated company.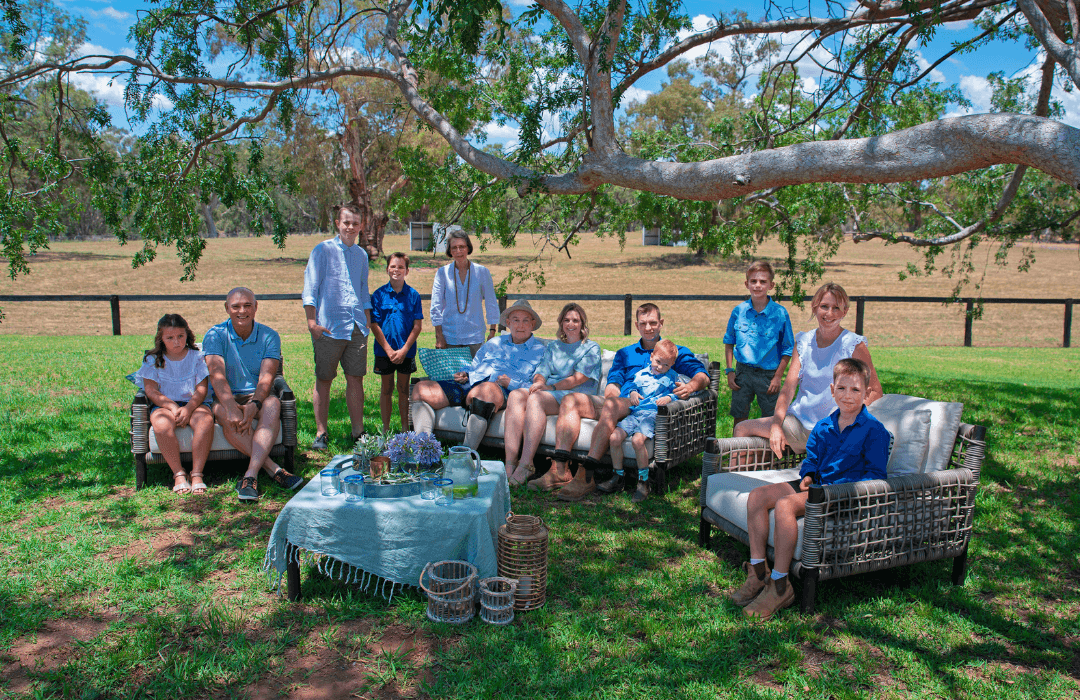 For 100+ years and 3 generations, our family has actively operated farming enterprises and our flour and speciality milling operations located in Dubbo, the heart of the NSW wheat belt. We are in control of our product from paddock to customer. We also rely on long-established partnerships with local farming families.
Our father John has always said "we don't want to be the biggest, just the best at what we do". We have taken that mantra and made it our own.
Today, we employ 90 staff who are all passionate about being an "Extraordinary Company".
We pride ourselves on being an Australian owned and operated family company in an industry dominated by multinationals. We are at our best when we are swift in our actions, focused on and aligned with our customers & our staff are driven by our core values culminating in excellence in quality and service.
As teenagers we were both involved in the family business helping mum, dad and team where we could after school and during the holidays. Tim joined the business in a full-time capacity at 18 and I at 25.
Over the years, we have learnt the fundamentals of the business, starting from the ground up, Tim gaining milling qualifications, working in the engineering department & grain procurement, and I delved into the regulatory administrative side of sales, logistics, finance, food safety and WH&S. In 2003 Tim and I took over the running of the business when John & Diane retired.
Since then, we haven't stopped working alongside an ever-growing team to expand this legacy, fuelled by a company culture that celebrates victories, encourages lifelong learning and sparks happiness.
If you want to go fast, go alone. If you want to go far, go with others.
As big believers in customer satisfaction, we lead by example, making sure our suppliers are treated with respect in all dealings, our customers are delightfully satisfied and have access to solutions tailored to their needs contributing to their success. We work alongside our team keeping them energized to do the same to the highest standards.

---
Our Team
At the centre of Ben Furney Flour Mills culture is business excellence and we seek like-minded individuals who treat the business as their own, who strive to challenge the status quo & who improve daily and consistently. Our team, from packers, forklift drivers and milling specialists to our finance, administration and sales teams, we all contribute to the successful daily running of our business.
---
Our Farmers
90% of all our wheat product is sourced from both our farms and local Macquarie Valley farming area. We have known these farming families for decades and are big believers in supporting those in our local community.
---
Our Brands
In addition to the Ben Furney Flour Mill flour products, we also produce a range of stock feed under the Purastock Feeds banner. Our retail outlet operates from our Dubbo mill, Sarah Jane Fine Foods provides an array of flours & delicious scone, pancake batters, cake mixes & other home and retail-ready mixing ingredients that we sell direct to the local community.
The essence of good customer service is forming a relationship with customers.
At Ben Furney Flour Mills we take the time to get to know our customers and their specific needs.
We know what it takes to be a successful business and our aim is to help your business grow.
We pride ourselves on being a small personalised team which gives our customers immediate access to all levels of the company when required, from sales support, sales management to the entire executive team.
We understand that we will be judged by what we do, all employees within all facets of our business work in the pursuit of excellence in customer service – doing the ordinary things extraordinarily well.
Talk to one of our friendly sales staff to experience real customer service and ask about how Ben Furney Flour Mills can help to grow your business.
As we say "Big enough to matter, small enough to care."
February 10, 2022
Why work Ben Furney Flour Mills? As a family owned and run company, Values drive our business. We'd love to outline why you should come & work with us.
September 17, 2021
Exciting news for the Ben Furney Flour Mills company. We have been announced as finalists in the 2021 Western NSW Business Awards.  These awards are an
[…]
October 9, 2020
At Ben Furney, our suppliers are like family. The majority of our grains are sourced within a 200km radius from our mill in the Macquarie Valley
[…]