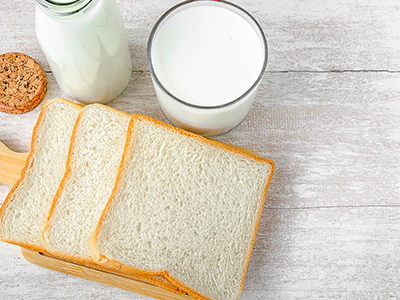 Basic White Loaf
April 28, 2020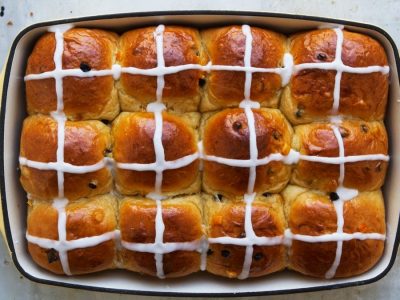 Hot Cross Buns
April 29, 2020
Pear and Almond Streusel Bread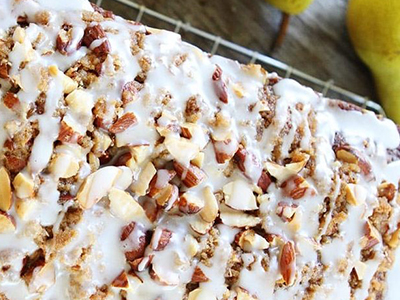 Ingredients
2 cups Ben Furney Plain Flour
1 teaspoon baking soda
1/2 teaspoon salt
1/2 teaspoon ground cinnamon
1/2 cup packed light brown sugar
1/2 cup granulated sugar
1 large egg
1 cup buttermilk
1/3 cup canola oil or vegetable oil
1 teaspoon pure vanilla extract
1/2 teaspoon almond extract
1 1/4 cup chopped pears skin removed
Method
Preheat the oven to 180°C degrees. Grease a 9×5 loaf pan with nonstick cooking spray. Set aside.
In a large bowl, whisk together the flour, baking soda, salt, and cinnamon. Set aside.
In a medium bowl, whisk together the brown sugar, granulated sugar, and egg. Whisk until smooth and there are no brown sugar clumps. Whisk in the buttermilk, oil, vanilla extract, and almond extract.
Slowly pour the wet ingredients into the dry ingredients and gently whisk until there are no more lumps. Don't over-mix. Fold in the chopped pears.
Pour batter in prepared pan. Sprinkle the almond streusel topping evenly over the bread.
Bake for 60 minutes, loosely covering the bread with aluminium foil after 30 minutes to prevent the top from getting too dark. A toothpick inserted in the centre of the loaf will come out clean when the bread is done. Remove from the oven and allow the bread to cool for 15 minutes on a wire cooling rack. Use a knife to loosen the bread around the edges in the pan. Carefully remove the bread from the pan and cool completely.
Drizzle with almond glaze.
Almond Streusel Topping
Ingredients
Method
In a small bowl, combine flour, brown sugar, cinnamon, and butter.
Rub the mixture together with your fingers until combined and crumbly.
Stir in the flaked almonds.
Almond Glaze
Ingredients
cup icing sugar
1/2 teaspoon almond extract
2 tablespoons milk
Method
Whisk all ingredients together.